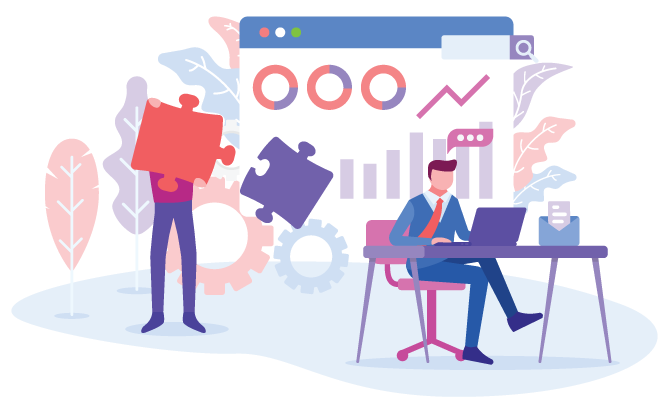 Network & Intelligent Campus Ecosystems main services:-
Support and deliver ICT services to the University

Manages and administer IT operations and projects

Support teaching & learning experience

Support audio and visual
Multimedia Learning System (MMLS)

Multimedia Learning System (MMLS) is a robust, easily deployed, web-based, intelligent Learning Management System (iLMS) which supports multimedia content. Multimedia Learning System was developed due to the high demand for a sophisticated, easy-to-use, and affordable online education software platform. It promotes adaptive learning; individualized learning paths based on its extremely powerful, open standards based architecture. MMLS is able to attract the attention of the education sector as well as the business corporations to engage e-learning into their organization for a better learning and working environment altogether.
The MMLS has some profound features and conforms to International Standards. You may access the MMLS here
Awards
MMLS has won Gold medal in the National University Carnival on E-Learning (NuCeL) 2014 and a silver medal in 2015.

Now students are able to navigate through the campus at ease. The MMU mobile app covers critical features such as the Student Digital ID, announcements, campus map and access online forms. These apps are downloadable for both android and ios.
During convocation event, MPU will release a special edition of MMU Convo App. This mobile app will assist graduates to receive latest convo announcements and bulletin, assist parents and visitors to move around the campus and overall improve communication between the University and graduates.

QR Code Attendance is develop to ensure that students of MMU are able to sign their attendance directly onto the system. Lecturers will generate a QR Code during class while students sign in their attendance using their mobile phones.
By the end of the trimester, lecturers will be able to track and view the records of their students' attendance through CaMSys.

We have vast experience in instructional designing, storyboarding, design technologies and international standards on content development. Current projects include multimedia content development for the university, government e-procurement project, schools and for industries. Strict methodologies are applied to ensure high quality learning objects.
The contents developed follows the Sharable Content Object Reference Model (SCORM), an international standard for packaging and delivering educational and training materials. The contents are well planned by applying the appropriate instructional design models and precisely developed by multimedia specialists.

Every staff/student is provided with an official MMU Email powered by Google. It is used as an official means of communication. Please use IDM credential to access to the email. . You may access the email here. 

There are two providers available in MMU.
WIFI@MMU
WIFI@MMU is wireless service powered by TM which available throughout campus; Cyberjaya and Melaka. To access to the service, please connect to SSID "Wifi@MMU" through your device.
You may find guidelines here.
MMU WIFI
MMU WiFi is wireless service provided by the University, which is available in Johor Campus. To access to the service, please connect to SSID "MMU" through your device. Kindly login using your IDM credential.
Virtual Private Networks (VPN)

VPN allows staff/student to connect to University Local Network (Intranet) from an outside location. Kindly login using your IDM credential. Please follow the instruction set in the Guidelines here.

CaMSys is a comprehensive campus solution for Student & Academic related system. It supports the full student lifecycle from prospects through enrolment to alumni management. Some of the modules encompasses in CaMSys are:
Course Enrollment and Subject Registration

Online Application of Credit Transfer

Viewing of Timetable

Examination Results

Student Fee Management
You may access the CaMSys here.
Also accessible from the mainpage of Online Portal.
Kindly login using your IDM credential

Service Desk is a system that manages MMU user's service request, incident and complaint. You may access the system at the MMU Online main page. Kindly login using your IDM credential.
Guidelines can be viewed here.
You may access the Service Desk System here.
Also accessible from the mainpage of Online Portal.

IDM is a comprehensive User Lifecycle Management System, which manages student/staff from new registration/employment to graduation/resignation based on their role matrix. To activate your IDM, kindly go to the following Portals
For Student, click here 
For Staff, click here

You may find more guidelines here.
Media Transfer and Duplication Services

We provide fast and reliable transfer and duplication of video and audio format to internal and external parties. Services include transfer from Beta to DVD, VHS, AVI, Mpg, Mp3, Wav (audio only) etc (copyright permitting/ costs may apply for external). You simply supply the originals to be copied and we take care of the rest.

We provides audio video services for academic and administrative purposes i.e CPU, monitor, projector screen, sound system, projection system, microphone, digital signage or any system that related with audio/visual at classroom, halls, selected labs (NMES Lab Cyberjaya and NMES Lab Melaka) and meeting rooms. This service excluding supporting staff, internet network and phone line services.

Why should you have to worry about the audio visual elements of your next event, when what you should be thinking about is the event itself? We can assist you to provide Audio Visual and Video Production for internal and external event coverage. Our services inclusive of sound and visual system, Multi and single camera Production and video recording with supporting staff. You may request the technical support for the event through Online Service Desk or directly to our office at least 3 days in advance.

We provides and support for staff of the MMU to conduct virtual face-to-face meetings to enhance their teaching and learning, research, or other business at the University. Video conferencing Services inclusive of tele- conferencing and skype for academic and administrative purposes at designated venues i.e halls and meeting rooms. It can be requested by submitting a ticket through the Online Service Desk and email to avbooking@mmu.edu.my.
Audio and Video Production

Have an idea for a video but none of the equipment or skills to produce it? We can work together to create a complete video production from beginning to end. You bring your ideas and we'll work together, calling on our experience, to layout a detailed plan aimed at creating a successful video. We produces broadcast quality videotaped programs for corporate marketing videos, instructional videos, TV commercial, voice over, audio mixing, shooting, editing and Radio, TV and Video Streaming. Finished programs can be delivered on videotape; in digital formats (including RealMedia, Windows Media, QuickTime or MPEG)or burned to DVD.

We provides equipment for rental / loan to staff and student of MMU for an event or class. The equipment that available are video camera, portable projector, projector screen, PA systems, microphones and other AV equipment. Equipment is available on a first-come, first-served basis. The requester need to fill up the form and submit it to the MSU Office during Office Hour. Kindly take note that we have the right to reject the request if the form details are not complete. Click Here to download the form.
For MMU students, after you got the approval from the MSU Staff, kindly logon to the Online Service Desk and submit the ticket.We strongly recommend that you make reservations at least 3 days in advance.

Managed Print Services (MPS) is operated by Fuji Xerox Asia Pacific Pte Ltd that manages all aspects including device management, user authentication, software solution and pro-active monitoring for printing/copy/scan/fax activities for the staff of the University.
We provide general lab for student and staff operating between 08.30am to 6.00pm located at:

Melaka – Penta and Sigma Lab, D3 Building

Cyberjaya – 2nd Floor, Wing C, Faculty of Engineering (FOE) Building